"Early childhood education is the key to the betterment of society."
Maria Montessori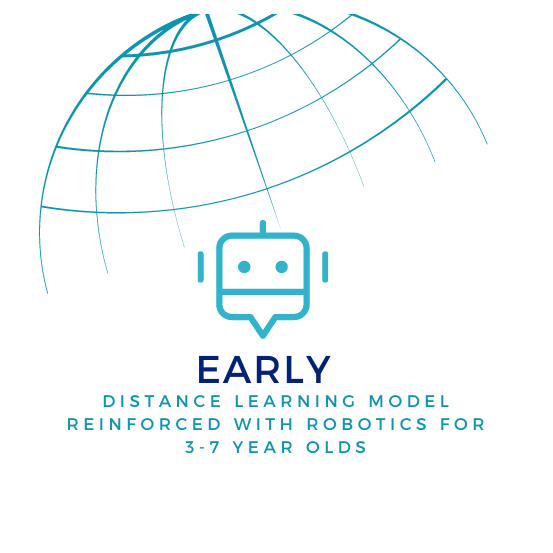 EARLY
The aim of this Erasmus + EARLY project is to raise the awareness of pre-service and in-service preschool teachers of 3-7 year old children by developing:

A manual for early education online labs including dynamic content which is linked to a distance learning module and enriched with Robotics to practice in classrooms as well as in distance learning. The project will also assist preschool teachers to improve their professional profiles by giving hands-on training supported with digital teaching tools and robots.

The project will also provide: A higher education modular course curriculum (R1), using open-source coding tools and various robotics kits tested for those age-groups.

All these results will become the content of the MODULAR COURSE CURRICULUM
HIGHER EDUCATION SYSTEMS:
European Universities and educational systems will benefit from the project's results because they will get a complete theoretical and practical early education programme online. They will be able to adopt it in courses, insert parts in lessons and use it for the internships of their students
FAMILIES:
The FAMILIES will be able to access the MOOC and use the material both to gain knowledge of the platforms and digital tools and to implement the proposed activities. The project foresees and encourages a close collaboration between school and family, where the two protagonists of early education can meet on MOOC.
UNDERGRADUATES AND TEACHERS:
The project activities will directly impact on the acquisition of professional skills for preschool teaching undergraduates to enable them to respond to academics. This project will give opportunities to preschool teachers working with preschool pupils, their parents and principals to articulate their needs. The TRAINING material published on the MOOC and on the European platforms will always be open and accessible to the public.
Impact on YOUNG CHILDREN: The impact on young children will be considerable as the methodology and materials of the EARLY project can be used in different situations, not only in emergencies. Making the necessary changes, LESSON PLANS and VIDEO TUTORIALS can be used to support children's work at home, inclusion activities, and supporting children from migrant groups.
OTHER INSTITUTIONS:
Private institutions dealing with early education will be encouraged to use the project materials and results, and asked to give feedback to the Project Partnership. In many European countries, and around the world, social cooperatives and other institutions are responsible for delivering services to young children during the day when there are no public institutions services available to children or where these public institutions do not cover the hours when relatives are at work. All the Project Results will be licensed under Creative Commons Attribution-NonCommercial- ShareAlike 4.0 International License and made available as OER through main repositories such as the Open Discovery Space (ODS). In addition, information on all the dissemination activities and multiplier events will be available on the website and all materials and resources produced by the EARLY Project will display the project logo, web address, Facebook, Twitter and any other applicable social media.